Brand copywriting, copyediting, and website design
Using various website providers—from WordPress to Squarespace, Shopify and Wix—I can design and build your brand's website. I can also update and edit existing websites with layout changes, copywriting, copyediting, photography, and graphics.
Additionally, I write SEO-informed blogs (or "journals") for companies that also help convey a brand message to their audience. I can also update existing copy with SEO "repairs." A few work samples can be seen below:
Layback Co. | Shopify
I wrote branded copy as well as made edits to existing copy. I further updated product descriptions, added new products, and photographed the company's new collection for their 2021 launch, on both the US and Canadian websites.
layback.co (US site)
https://ca.layback.co (Canadian site)
Desiree Nielsen, RD | WordPress
As a content and podcast producer, I helped the client manage, write, and upload her weekly blogs. I also repaired outdated articles for grammar and SEO, created Instagram graphics, carousels, and videos, wrote show notes and produced each podcast episode—and provided communications and sales management for the overall business.
Midrange Vancouver | Squarespace
I designed and set up the 2019 website for an independent music and culture publication—and podcast umbrella company—called Midrange Vancouver.
I trained the founders, through video, on the backend of their new website, including how to upload images/content and code each post correctly so it would appear in the appropriate website section.
Lindsay Pleskot, RD | Elementor
I built multiple sales webpages for this registered dietitian's website, created graphics for her Instagram, Pinterest, and TikTok, and designed her online program module slides. I also helped manage her weekly blog posts and made repairs to older articles for SEO and grammar. I also made copy edits on her public communications and worksheets—and shot multiple recipe photoshoots.
lindsaypleskot.com/3-2-1-method-meal-plans/
Prince of Whales | WordPress
I designed this tourism company's blog landing page as well as wrote the hed/dek copy. I managed and wrote each blog post during the summer of 2018, photographing company activities. I also interviewed employees, whale researchers, and guests to drum up content ideas. Our goal was to convey the company's ecological commitment to the Pacific Northwest and explain that to their website visitors/potential clients.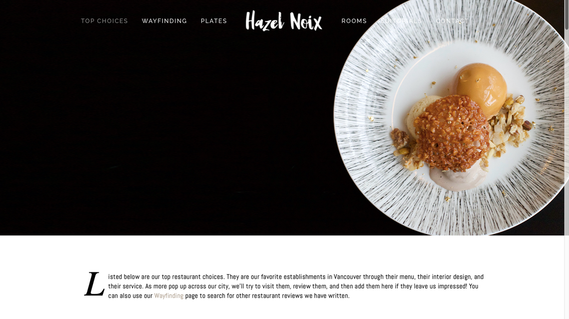 Hazel Noix | Squarespace
I designed and built the 2017 website for local Vancouver food blog Hazel Noix, writing copy, making copy edits, and publishing blog posts on the city's top restaurants. I also photographed restaurant, menus, dishes, and interiors for the website.